Looking for a Home Inspector?
Here's What You Need to Know
Tips from the Oregon Construction Contractors Board
http://ccbed.ccb.state.or.us/WebPDF/CCB/Publications/lookinghi.pdf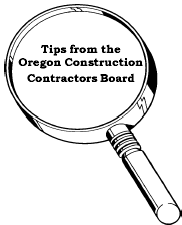 Why should I get a home inspection?
Before making a major purchase such as a house, many people select a home inspector to objectively evaluate the home's condition and avoid unpleasant surprises. A professional home inspector may spot existing defects and conditions, enabling you to get bids for repair from qualified contractors.
What is a home inspection?
An inspection is a general, visual inspection of the house and its appurtenances. An inspection report should cover the major systems of the house: structural, plumbing, electric, heating and cooling, general interior, insulation, ventilation, siding, windows, doors, roofs and attached garages. A WDO or wood destroying organism report (sometimes called a pest and dry rot) is sometimes included. Usually not included are septic systems, wells, underground piping, swimming pools and other items that are not considered part of the main structure.
When you get an inspection, you are purchasing an educated opinion, not a guarantee. Reports by seller's and buyer's inspectors sometimes differ.
A report is not a warranty. It does not guarantee that the house is sound or that you will never encounter any problems.
Some deficiencies can only be found by tearing apart the structure, which inspectors do not do. Inspectors will not move furniture, rugs or other obstacles. Inspectors will not inspect areas which are inaccessible (wall interiors, wet crawl spaces, steep or wet roofs, etc.).
How do I find a qualified inspector?
Ask friends, co-workers, neighbors, or your attorney or lender for recommendations-- someone with no vested interest in who you choose.
Consider getting your own inspection. Don't rely solely on the recommendation of a real estate agent.
The inspector's professional background is important. Ask if he/she is experienced in the building trades.
If you are a potential home buyer, contract for your own inspection to retain your Construction Contractors Board claim rights. In most instances, you will not be able to hold the seller's inspector liable for deficiencies.
How do I check an inspector's qualifications?
Before making a commitment and using an inspection service, make some calls.
First, check with the Oregon Construction Contractors Board (CCB) to make sure the business is properly licensed. Go to www.ccb.state.or.us or 503-378-4621 ext. 4900. Ask the business for its CCB number before calling the CCB.
A license means the business is insured and bonded--some financial protection if problems happen later.
When you call the CCB, ask how long the business has been licensed and if it has had any claims filed against it.
Anyone who performs home inspections of two or more components also must be certified with the CCB. (Examples of components of a house are the roof, plumbing system, electrical system, etc.) When you call the CCB, ask who in the business is an Oregon certified home inspector. Certification means the individual has passed a comprehensive test and must complete continuing education courses.
(A few general contractors are exempt from certification and may perform home inspections. If your inspector is not certified, ask the CCB if he/she is allowed by law to perform inspections.)
Second, some inspectors may be members of a not-for-profit trade association. There are associations, both in Oregon and nationally, that many companies belong to that provide standards of practice, codes of ethics and industry-specific training.
The following three national associations require some or all of their members to pass written competency tests and take continuing education . All their members must adhere to standards of practices and a code of ethics.
You may also want to ask if the inspector belongs to a local trade association:
Central Oregon Real Estate Inspectors Association (www.coarei.com)
Oregon Association of Home Inspectors- ASHI (503-233-2225, www.oahi.org)
Oregon Real Estate Inspectors Association (503-640-0607)
Southern Oregon Certified Home Inspectors (541-882-6588)
What else should I know?
You get what you pay for. Don't expect too much if you shop around for the cheapest possible inspection. Consider all aspects of the inspection (cost, services, experience) before deciding which company suits your needs best.


Ask questions. How does the inspector handle disputes? Do they have an arbitration clause in their contract? What will be the format of the inspection report? Written reports are required but there is no standard format.


A written contract is required for all home inspections. If there are problems later, a written contract protects you. Don't sign the contract until you understand everything. The Construction Contractors Board has adopted Standards of Practice and Behavior which list what a home inspector must do and cannot do. If you and your inspector agree that your inspection will deviate from the standards, the changes must be in your contract.


Read your contract carefully for disclaimers. Besides protecting your inspector, disclaimers inform you of items or conditions that are not included in the inspection. You may wish to seek a more specialized inspection for these items (asbestos, radon, lead-based paint, code compliance, mold, low-voltage wiring, etc.)


Inspection businesses often include a clause in their contracts limiting their liability to the amount of the cost of the inspection. This is a common practice and emphasizes the need to hire a responsible, competent inspector.


It is important to be present at the inspection to discuss findings with the inspector and get a fuller understanding of the needs and characteristics of the home.


Consider getting a second opinion from a repair contractor before making a major home buying decision.


Any business that does an inspection of two or more components of a house cannot, by law, perform repairs on the house within 12 months of the inspection. However, inspectors who inspect just one aspect of a home (for example, the roof), may contract to perform repairs on the house.


Inspectors should not estimate the value of the house.
What should I do if I have problems?
The Construction Contractors Board has a free dispute resolution service for homeowners who use licensed home inspection businesses.
First, try to work it out with the inspection business.
If that doesn't work, download a claims packet at www.ccb.state.or.us or call the CCB for a packet (503-378-4621 ext. 4974). To ask questions, call ext. 4910.
You may file a claim against the business if you contracted with the home inspection business and the inspection was done within the past year.
You may download consumer publications at www.ccb.state.or.us or call the CCB (ext. 4974) for the following free publications:
16 Ways to Avoid Remodeling, Repair and Construction Problems


How to Avoid Being a Victim of Construction Fraud


Summary of Oregon Home Inspector Certification Law/Standards of Practice and Behavior